Buster
Man With Admitted "Drinking Problem" Busted For Drunk Driving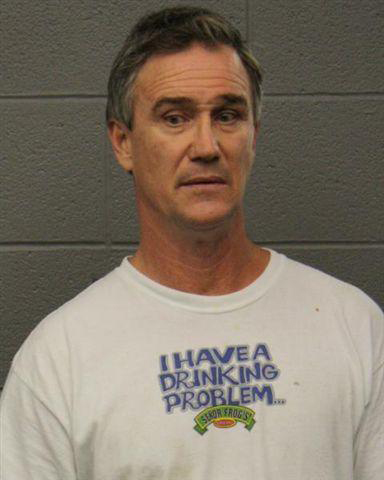 A Connecticut man wearing an "I Have A Drinking Problem" t-shirt was arrested last night for drunk driving after losing control of his car and crashing it into a house.
James Johnson, 50, was busted by police in Webster, Massachusetts, his fourth such collar. Johnson is pictured in the mug shot at right.
When cops arrived at the crash scene, they found Johnson's Ford pickup truck atop the front steps of a private residence. Though he was alone in the vehicle, Johnson claimed to cops that that the truck was being driven by his brother when the crash occurred, according to a police press release.
Johnson's shirt carries the logo of Senor Frog's, a restaurant chain.