Buster
Colorado Toilet Tank Arrestee Is A Wannabe New Age Pornographer
The man arrested for hiding in a toilet tank at a Colorado yoga festival is a New Age transient who aspires to operate a "spiritual porn site" and describes himself as a "worshipper" of women.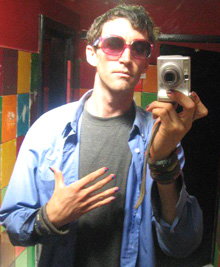 Luke Chrisco, 30, was arrested yesterday and charged with hiding inside a toilet tank at the Hanuman Yoga Festival in Boulder. A woman about to use the toilet, cops reported, noticed "movement in the tank" and alerted a man who spotted the feces-covered suspect "hiding inside the tank."
Pictured at right, Chrisco appears to travel from festival to festival, according to his Facebook and YouTube pages. He is a world traveler who offers massages to festival attendees.
On several blogs and web sites he has registered, Chrisco--who uses the handle "Skye Oryan"--has written about his desire to "create some adult entertainment" and "share divine pleasure and make a ton of money and fun." His web sites include maxextrememodels.com, skyeoryan.com, and holysexteam.blogspot.com (where his occupation is listed as "Pornstar").
Another Chrisco site, holysexgirls.com, declares that, "Girls Bodies are as the holy temple of the conciousnes adoration of infinity and the only refuge from the infinite desert of the sands of time and desolution." The site is headlined "Spirit Porn" and includes the slogan "No Guilt. No Fear. Only God."
One Chrisco page advertises his services as a male escort. Using the handle "BunnyMan," he offers female clients "pricing plans" that are "quick and easy." The page, which appears to have been created several years ago, notes that an initial hour costs $40, with a two-hour minimum on all "dates." For $620, a woman could get "Seven Days of Sin" with "BunnyMan," who, for some reason, included a scan of his passport on the site. In a YouTube video posted late last year, Chrisco, traveling in Serbia, talks about "getting business cards for the escort agency."
Chrisco also recently has been contemplating a "tantric website," and last month placed an online classified ad seeking models and business partners. Chrisco noted that he and a partner were "worshippers of women and just want to show them as the amazing dynamic and even creations of infinite light that they are." He added, "Women are the greatest animal in the animal kingdom! Meow! Roar!"
In a June 3 classified ad, Chrisco offered the escort services of himself and his 19-year-old girlfriend. Along with offering "Special Pricing for using us as a couple," the ad states that, "We can even do tantric or healing type work. There is also an option of making a video."
In an April video posted to his Facebook page, Chrisco--who introduced himself as "Skye Oryan, the biggest jackass on earth"--said that he was en route to North Carolina and spent the night sleeping in a cardboard box inside a dumpster at a construction site. He did not want to stay at the Greyhound station because it "smelled weird."