DOCUMENT: Celebrity
L.A. Man Shops Michael Jackson Medical Records
Documents, photos detail 1984 Pepsi blaze injuries
APRIL 4--With trial looming in the wrongful death suit filed by Michael Jackson's mother and children, a Los Angeles man is seeking to sell records documenting the singer's medical treatment after he was severely burned during the 1984 filming of a Pepsi commercial.
The Jackson documents are being peddled by Brian McDaniel, a 51-year-old ambulance driver who claims that he found the material in a manila envelope near a dumpster in a
Culver City park around 12 years ago.
In an interview, McDaniel said that at the time of the purported discovery he worked as a real estate salesman, though he also collected cans and bottles for the recycling fees. Hence his proximity to the dumpster.
The documents McDaniel is seeking to sell were generated at Brotman Medical Center, which is about a mile from the Culver City park. After the singer was burned in January 1984, he was treated at the hospital, whose chief of plastic surgery was Dr. Steven Hoefflin, Jackson's longtime plastic surgeon.
The records in McDaniel's possession--copies of which he provided to TSG--include a three-page discharge summary prepared by Hoefflin and hospital notes to which are attached seven Polaroids showing the injury to Jackson's scalp. Other documents include a signed letter from Jackson to the hospital authorizing the release of his medical records to his lawyers.
McDaniel sought last year to sell the documents via an online auction house, but the firm yanked the items in the face of objections from Jackson fans and representatives of the singer's estate. At the time, Pristine Auction generously estimated that the records could sell for between $100,000 and $500,000.
The records, McDaniel contended, have "such historical value" because they document the sedatives and painkillers given to Jackson and reflect the performer's first step on the "trail leading to his drug addiction." The accident, he noted, "is the incident that started the beginning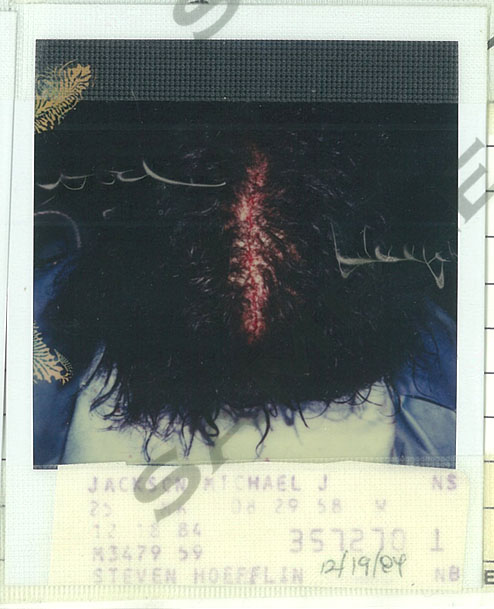 of the end of the King of Pop." In 1993, Jackson revealed that he had developed an addiction to painkillers that were prescribed to help him deal with the intense pain caused by second- and third-degree burns.
After finding the documents, McDaniel claimed, he put them in a safe, where they remained until last year. Remarkably, he never sought to sell them when Jackson was alive and embroiled in child molestation charges and assorted front page scandals. He sat on the records after Jackson died in June 2009. And he did nothing with the documents and Polaroids in July 2009, when Us Weekly published never-before-seen video of Jackson being set ablaze on the stage at L.A.'s Shrine Auditorium.
McDaniel rejected a reporter's theory that the dumpster story was a fabrication, and that he had actually recently obtained the Jackson documents, perhaps in connection with his ambulance work.
Noting that he grew up with Jackson's music, McDaniel said that "when he passed, I decided to let the family grieve before I surfaced and brought [the documents] up." (2 pages)