Buster
In-Flight Masturbator Cops Federal Plea For Illegally Joining Mile High Club
The Florida man who "masturbated to the point of ejaculation" during a recent United Airlines flight pleaded guilty Friday to a federal criminal charge, according to court records.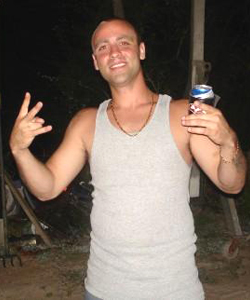 Kyle Pearce, 25, copped a misdemeanor plea during an appearance in U.S. District Court in Denver, Colorado. He faces a maximum of 90 days in jail, a year of supervised release, and a maximum $5000 fine when sentenced August 19.
Pearce, pictured at right, was arrested by FBI agents after he made an "obscene and indecent exposure of his person" during a May 19 flight to Denver from Spokane, Washington. According to an FBI affidavit, an 18-year-old woman who was seated next to Pearce told investigators, "I sat next to a man on a plane who was masterbating [sic]. I heard a noise and looked over and saw his penis."
The teenager continued, "He ejaculated & got some on the seat. Then he went to the bathroom for a long time."
A second passenger, Grayson Miller, corroborated the woman's account. Miller, 18, recalled, "My friend Zach turned to me and said, 'That man is masturbating' and in disbelief, I looked and saw his penis and he was." In a written statement, Miller added, "I hit him with my book in the arm, which caused him to stop and leave to the bathroom."
Pearce remains free on $25,000 unsecured bond. As part of his conditions of release, Magistrate Judge Kathleen Tafoya ordered last month that he undergo "mental health and counseling" treatment.