DOCUMENT: Celebrity, Investigation
Meet The Man Who Targeted Elmo Puppeteer
Accuser who recanted is a struggling model
NOVEMBER 14--The mystery man who accused Elmo puppeteer Kevin Clash of engaging in an underage sexual relationship--only to recant the allegation a day later--is a struggling 24-year-old model/actor who was once arrested for the knifepoint robbery of $250,000 in jewelry from a music manager for whom he interned, The Smoking Gun has learned.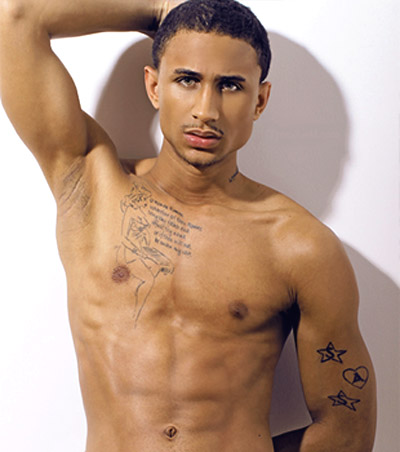 The accuser, Pennsylvania resident Sheldon Stephens, had his unsubstantiated claims against Clash published Monday on the gossip web site TMZ. The smear triggered a torrent of social media activity and press reports that portrayed Clash, 52, as a predator (the New York Post's front page headline read "Nookie Monster").
While Stephens (seen at right) has not been publicly identified, TSG yesterday learned of his identity and confirmed his role in the Clash matter with two sources, a family member and a friend.
It is unclear how Stephens, who once lived in New York City, met Clash, who resides on Manhattan's West Side. A friend of Stephens said that he "attracts these high-powered men," but that the model wannabe was a "God-fearing guy" and "not just a pretty boy."
In a statement released yesterday, a Harrisburg, Pennsylvania law firm--which no longer represents Stephens--reported that Clash's accuser "wants it to be known that his sexual relationship with Mr. Clash was an adult consensual relationship." TMZ initially reported that the man claimed to have been 16 when his sexual relationship with Clash began.
Shortly after the statement's release, TMZ scrambled to publish a story (citing "sources close to the situation") claiming that attorneys for Clash and the accuser were, right then, purportedly "discussing a financial settlement and 6-figures were on the table." At that point, however, Stephens was no longer being represented by Andreozzi & Associates, the Harrisburg law firm, and had no other legal representation. The issuance of the statement was done as a courtesy by Stephens's former counsel, who noted that, "He will have no further comment on the matter."
The acknowledgement that the damaging claim against Clash was not true came as a relief to the producers of "Sesame Street," who, as The New York Times notes, "had been alarmed by seeing the words 'under-age sex' in the same sentence as 'Elmo.'"
The recanting, however, came after TMZ had effectively outed Clash as a gay man. In a statement, the puppeteer noted, "I have never been ashamed of this or tried to hide it, but felt it was a personal and private matter." It is unknown if TMZ, one of the country's leading practitioners of checkbook journalism, paid Stephens for his story.
Stephens, who did not respond to e-mail and Facebook messages, describes himself as an "Entrepreneur, Student, Model, Actor" on his Twitter account, which is protected. His Facebook page's "About" blurb notes, "I like to consider myself a rare breed. I'm very spontaneous and random…I'm determined and goal oriented. My destiny is laid on a solid gold brick pathway....... MY FUTURE IS BRIGHT and never will it dim."
Online searches turned up dozens of modeling-type photos of Stephens, who often uses the name "Sheldon Xzavier." However, there is no evidence that the 5' 10" Harrisburg resident has met with any success as a model or actor. In a submission this year for a cover shoot with an online fashion magazine, Stephens wrote that, "I've always wanted to land a major project such as this one. It will help restore my confidence and to give me a better outlook on the future of my career."
Photos show Stephens in a variety of U.S. cities, including Los Angeles, Las Vegas, Miami, and New York City, where he is seen posing in a hotel room overlooking the World Trade Center memorial. As seen below, Stephens appears in a 30-second online commercial for a York, Pennsylvania clothing store. He also has a page on the Xtube porn site, but it appears inactive.
According to an October 2011 resume, Stephens has taken classes at Harrisburg University of Science and Technology, and expects to receive a bachelor's degree from the 322-student school in May 2013. Along with several internships, he reported working as a valet at a Hilton hotel in Harrisburg, and as an office assistant at an American Automobile Association branch.
Stephens's resume also lists stints at a pair of clothing stores in Manhattan's Soho neighborhood. During this period, he resided in Brooklyn, but eventually returned to Harrisburg, where he now lives in a school dormitory about a mile from his mother's apartment.
Felicia Stephens, 48, was charged last March with attempted murder after she allegedly repeatedly stabbed her husband with a pair of scissors. Free on bail, Stephens, who is also facing a felony aggravated assault rap, is next due in court December 19. Following his
mother's collar, Sheldon Stephens described her to a newspaper reporter as "the nicest person in the world." Mother and son are pictured at right.
Court records show that Stephens himself has been arrested several times since 2009. Last year, Stephens was busted for passing a bad check, though that charge was eventually dismissed after he settled the debt with a Harrisburg business. He was also collared last May for reckless driving, and subsequently pleaded guilty to a traffic offense.
The most serious criminal charges filed against Stephens came in September 2009, when he was arrested at the Harrisburg airport after stepping off a flight from L.A..
According to a criminal complaint, music manager Darian Pollard contacted the Beverly Hills Police Department to report that Stephens--an intern that he had just fired--had robbed him at knifepoint of a $250,000 "white gold necklace with diamonds" and a "white gold ring with diamond baguets."
Pollard, who heads DP Music Entertainment Group, told cops that Stephens had boarded a flight bound for Harrisburg. Beverly Hills police contacted their counterparts in Pennsylvania, and two officers detained Stephens, who "was wearing the necklace and also the ring" as he exited the plane, reported an investigator, who added, "He made no attempt to hide either article."
Cops, who did not find a knife in Stephens's luggage, arrested him on two felony receiving stolen property counts. Stephens, according to
the complaint, denied that the jewelry was stolen. "He insists they were gifts," a cop noted.
Criminal charges were initially filed against Stephens in a Pennsylvania court, where a judge ordered him held in lieu of $15,000 bail (his prison mug shots are here). The criminal complaint notes that a Beverly Hills Police Department detective told Pennsylvania investigators that he "would be filing charges in Beverly Hills for theft and other charges."
However, a TSG search of L.A. county court records did not locate any evidence indicating that charges were subsequently filed against Stephens in Beverly Hills. The charges lodged against Stephens in Pennsylvania were dismissed two weeks after he was arrested at the Harrisburg International Airport.
In brief phone interviews, Pollard described himself as a "very wealthy" man who has been held up "like five times." He claimed not to recall being robbed at knifepoint by Stephens or calling Beverly Hills cops. A friend of Stephens's dismissed the Beverly Hills incident as a simple "misunderstanding," likening it to a "domestic dispute."
In addition to Stephens's modeling and acting pursuits, he has founded a management company whose web site describes itself as "a boutique style full service agency representing the industries elite." The firm's "target markets" include Harrisburg, New York City, Miami, Los Angeles, Atlanta, and Las Vegas. Stephens describes himself as having traveled the U.S. as a "High Profile Model, Hollywood stylist, Public Relation rep, and an Intern for multiple entertainment and production Agencies."
Among the companies listed as partners of Stephens's fledgling concern is "DP Music Management," Pollard's firm (the name of which does not appear, however, on Stephens's resume).
Stephens's web site also notes that one of his goals has been "spearheading Local Celebrities to National Stars." Mission accomplished (17 pages)