Buster
Cursing Maryland Man Dressed As Frosty The Snowman Busted At Christmas Parade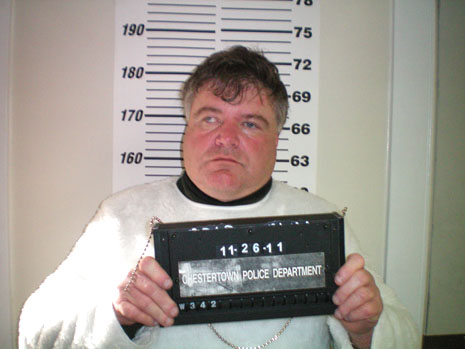 A Maryland man dressed as Frosty the Snowman was busted Saturday after he made a "kicking motion" at a police K-9 dog during a Christmas parade, according to cops.
Kevin Walsh, 52, got into an altercation with a Chestertown Police Department officer who rebuked him, since the dog, named Henzo, "might take this as an act of aggression." Walsh did not appreciate the sidewalk lecture, reported Patrolman James Walker, who noted that Walsh "started to yell at me while he was still in the frosty suit."
After Walsh struck Walker in the face while removing his costume's head, he announced, "You can't fucking tell me what to do and fuck you and this is fucking harassment." He was subsequently taken to the ground and handcuffed. While being placed in a police cruiser, Walsh allegedly pushed into a second officer.
While in custody at the police department, Walsh said that "kicking at the dog is not an assault," according to a probable cause statement. While conducting a search of Walsh, an officer asked him about a bulge in his pocket. "If it was a gun, I could have shot all of you officers," Walsh replied.
Charged with assault, disorderly conduct, and resisting arrest, Walsh posed for the above booking photo (click to enlarge) while still wearing his furry Frosty costume (sans head). He was later released on his own recognizance.